Edouard Duval-Carrié is one of the artists in US IS THEM Pizzuti Collection, Columbus Ohio, Until April 2, 2016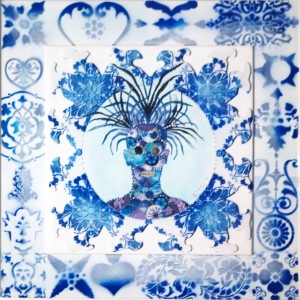 Delft Primitive, 2012.
About:
"Edouard Duval-Carrié has produced a very exciting new body of work with his dark "Imaginary Landscapes," said PAMM Chief Curator Tobias Ostrander. "This suite of sparkling paintings and sculptures dialogue dynamically with the characteristics of the gallery space at PAMM, as well as with the context of tropical Miami as a Caribbean city. This series intriguingly reveals the strong influence of his recent pan-Caribbean research and outlook."
Edouard Duval-Carrié is known for his innovative adaptions of traditional Haitian iconography, which he engages in order to address contemporary social and political conditions. Contrasting his signature use of strident colors, this new project presents works executed entirely in black and silver glitter. Involving extensive research, Imagined Landscapes presents lush tropical scenes that reference specific 19th century paintings executed in the Caribbean and Florida. These paintings, by artists such as Martin Johnson Heade and Frederic Edwin Church, were commissioned as part of Colonialist interests in promoting economic development of these areas of the world. The artists used pictorial effects, imagination and fictions to present the Caribbean as the "New Eden," a fertile land of possibility. Duval-Carrié's works translate these historical images into his own contemporary aesthetic language, in order to address the manner in which the tropics of the Caribbean and Florida continue to be sold as tropical paradises, in ways that often obscure traditional economic and social disparities that continue to be perpetuated in these contexts.